ZEN Collection Room Sprays
$36.00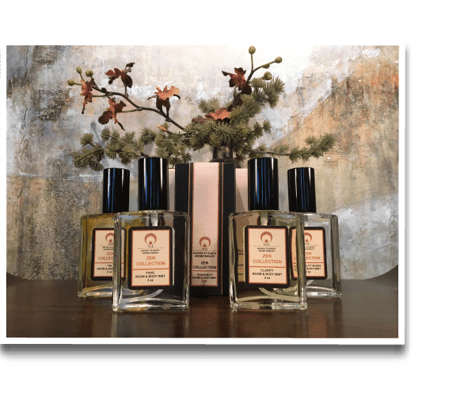 CLARITY ~ OUR THERAPEUTIC BLEND OF FRANKINCENSE & MYHRR,ARE DESIGNED TO OPEN THE CROWN & INTUITIVE ENERGY WITH CLOVE PROVIDING CLARITY WHILE LEMON & PEPPERMINT OILS MOTIVATE NEW IDEAS AND FRESH  ENERGY MELDING IN A SULFATE FREE HEMP OIL BASE WITH GREAT MOISTURIZING FROM HIGH GLYCERINE THAT BOTH REFRESHES & REVIVES THE SKIN.
TRANQUILITY ~ THIS CUSTOM BLEND WAS DESIGNED TO ALLEVIATE ANXIETY AND DEPRESSION WITH HOLY BASIL FOR
CLARITY YLANG YLANG TO UPLIFT THE ENERGY BLACK PEPPER OIL TO MOTIVATE AND BALSAM DE PERU TO GROUND SET IN OUR SUFATE FREE ARGAN BASE PROVIDES A FANTASTIC SKIN FEEL FROM THE HIGH VITAMIN E AND FATTY ACID CONTENT.
YIN ~ THIS FEEL GOOD COMPOSITION WAS DESIGNED TO ELATE THE SENSES WITH ABSOLUTES OF PLUMERIA WHITE LOTUS & WHITE LOTUS LEAVES IN A SHEA BUTTER OATMEAL PARBEN FREE BASE THAT HELPS ACNE ECZEMA & ROSACEA WITH THE ENRICHING QUALITIES OF SHEA BUTTER AND GENTLE EXFOLIATION OF NATURAL OATMEAL.
YANG ~ OUR COMBINATION OF AMBER OAKMOSS ABSOLUTE & DRIED OAKMOSS LICHEN IS A SENSUAL BLEND INFUSED IN OUR AFRICAN BLACK SULFATE & PARABEN FREE BASE TO CLEANSE HYDRATE BALANCE AND REVIVE COMPLEXTION.
Additional information
| | |
| --- | --- |
| Weight | N/A |
| ZEN Room Sprays | CLARITY, TRANQUILITY, YIN, YANG |