ZEN Collection Room Sprays
$36.00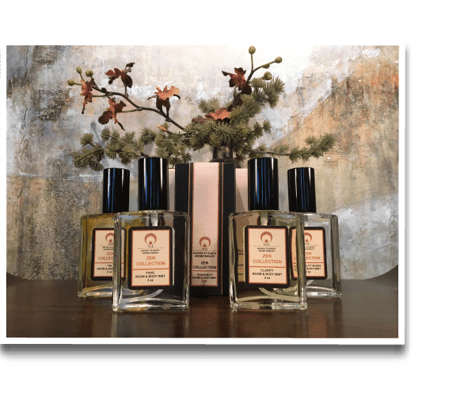 ZEN COLLECTION ROOM SPRAY, 7 OZ BOXED.
CHOOSE FROM THESE ESSENCES:
CLARITY ~ OUR THERAPEUTIC BLEND OF FRANKINCENSE AND MYRRH, DESIGNED TO OPEN THE CROWN AND INTUITIVE ENERGY, WITH CLOVE PROVIDING CLARITY, WHILE LEMON AND PEPPERMINT OILS MOTIVATE NEW IDEAS AND FRESH ENERGY. 
TRANQUILITY ~ THIS CUSTOM BLEND WAS DESIGNED TO ALLEVIATE ANXIETY AND DEPRESSION WITH HOLY BASIL FOR
CLARITY, YLANG YLANG TO UPLIFT THE ENERGY, BLACK PEPPER OIL TO MOTIVATE, AND BALSAM DE PERU TO GROUND. 
YIN ~ IMAGINE YOURSELF IN THE COUNTRY OF HAWAII. THIS FEEL GOOD COMPOSITION WAS DESIGNED TO ELATE THE SENSES WITH ABSOLUTES OF WHITE LOTUS AND PLUMERIA.
YANG ~ OUR COMBINATION OF AMBER AND OAKMOSS ABSOLUTES IS A SENSUAL BLEND TO GROUND AND IGNITE PASSIONATE ENERGY.
Additional information
| | |
| --- | --- |
| Weight | N/A |
| ZEN Room Sprays | CLARITY, TRANQUILITY, YIN, YANG |