Spa Collection 2 oz Travel Candle
$12.00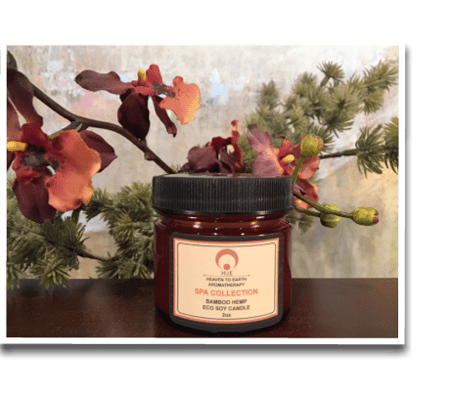 SPA COLLECTION ECO SOY CANDLES
EXPERIENCE THE SAME GREAT ESSENCES OF OUR SPA COLLECTION BODY PRODUCTS AVAILABLE IN A 2oz TRAVEL JAR, 4 oz JAR OR OUR BEAUTIFUL 10oz BOXED, FROSTED, VESSEL. ALL CLEAN BURNING SOY WITH COTTON WICKS.
ALOE GREEN TEA – SOOTHING ESSENCE OF ALOE & GREEN TEA FOLLOWED BY MANDARIN & POMEGRANATE.
BAMBOO HEMP – A WELL BALANCED BLEND OF BAMBOO STALKS, VETIVER, PATCHOULI, HEMP SEED,& OAKMOSS.
COCONUT LIME VERBENA – A HARMONIOUS BLEND OF COCONUT, LIME, VERBENA WITH THE ZEST OF LEMONGRASS.
EUCALYPTUS ROSEMARY MINT
REFRESH & STIMULATE THE SENSES WITH OUR INVIGORATING BLEND OF EUCALYPTUS ROSEMARY & PEPPERMINT OILS IN OUR LONG LASTING & CLEAN BURNING ECO SOY WAX BASE.
SANDALWOOD TEAK – THE AROMATIC NOTES OF TEAKWOOD BLENDED WITH THE EXOTIC BASE NOTES OF SANDALWOOD.
SEA BUCKTHORN –  FRESH BOUQUET OF ORANGE BLOSSOM & LEMON OILS WITH A SUBTLE HINT OF MUSK.